C P Odom has a new book coming up, Pride, Prejudice & Secrets.  Here's a first look at the cover: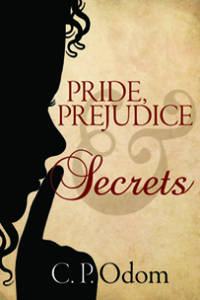 "Seldom, very seldom, does complete truth belong to any human disclosure; seldom can it happen that something is not a little disguised, or a little mistaken."

Jane Austen
It is always the completely unforeseen events that lead to the most unexpected consequences, and such is the case in this variation on Jane Austen's Pride and Prejudice. One of the crucial points in Austen's novel is Miss Elizabeth Bennet's fiery and passionate refusal and denunciation of the equally passionate but infinitely more repressed Fitzwilliam Darcy. What might eventuate if the robustly healthy Elizabeth falls prey to illness for almost the first time in her life just when Darcy comes to call? Bemused by her illness, she hardly comprehends what Darcy is asking, and her simple nod of acknowledgment is misinterpreted as acceptance of his suit by a joyous Darcy. By the time Elizabeth regains her health, it seems that every one of her acquaintance and many outside of it accept that she has become engaged to the last man in the world she would ever have considered marrying. Can she openly demand her engagement to the amorous but prideful Darcy be broken, a course fraught with hazards in the social milieu of Regency England? In a maelstrom of confusion, choices have to be made and disclosures closely considered. Elizabeth knows that nothing in her life will ever be the same, and the consequences will likely spread further than she can imagine.