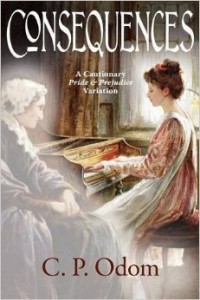 Hello, Janeite friends!
I hope that you're fine and merry wherever you are and , especially, that you are ready to join today's guest at My Jane Austen Book Club, C.P. Odom. Let's discuss his new variation of Jane Austen's Pride and Prejudice, Consequences. Looking forward to reading your comments to the guest post and to the excerpt from Consequences!
C. P. Odom
My second novel, Consequences, was recently published by Meryton Press, and Maria Grazia has been gracious enough to invite me to talk about it. Both it and my first novel, A Most Civil Proposal, are variations on Jane Austen's Pride and Prejudice. Essentially, they are "what if" stories, which look at how things might have turned out if some element of the story went in a different direction. A Most Civil Proposal pivoted around Darcy making a more civil proposal at Hunsford rather than the proud and arrogant proposal as in the book. Would that really lead the story in a different direction and, if so, how would events transpire? The critical point in Consequences is Elizabeth Bennet's angry and vituperative rejection of Darcy's proposal. The book has two parts resulting from differing consequences resulting from that critical decision.
Continue to read the guest post at MY JANE AUSTEN BOOK CLUB: BLOG TOUR – CONSEQUENCES BY C.P. ODOM, A NEW VARIATION OF PRIDE AND PREJUDICE BY MERITON PRESS.