About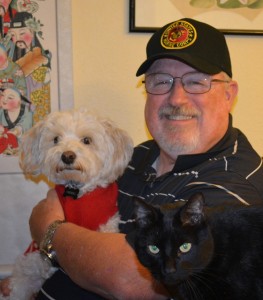 I am a "baby boomer" born in the Texas panhandle in 1947.  We lived there through second grade, after which my family moved to Oklahoma City, where I completed the rest of my schooling.  My main interests during those years were reading much of the school library, playing high school football, and trying to learn the art of pursuing girls.  I had a fair amount of success at the first two endeavors but rather lackluster results for the third effort.  After completing high school, I attended the University of Oklahoma, majoring in engineering, a process that took a bit longer than anticipated since I left school to serve a hitch in the Marine Corps from 1970-73.  My efforts with the girls improved quite a bit after I was discharged, and I met my first wife while completing my BS and MS in Electrical Engineering.  I also got to watch a lot of great college football, since my beloved "Sooners" won two National Championships before I graduated.
After graduation in 1977, I took what I thought was going to be a "starter job" with Motorola Corp. in Scottsdale, Arizona in 1977.  My starter job lasted for the next thirty-five years as an Electrical and Software Engineer.  During that time, I raised two sons, coached assorted kid's sports, served as an Asst. Scoutmaster for a Boy Scout troop, lost my wife to Melanoma cancer in 1995, and remarried in 2002.  I met my current wife, a Labor and Delivery nurse, in the Spring of 2001.  Very soon after we met, we both realized that we would be getting married.  A little excitement predated that event, as she left for China in October, 2001 to bring home the six-year-old daughter whose paperwork had been in process for more than a year.  Now I was a Daddy again!  We married the following January, and our daughter acted as both our flower girl and ring bearer.  Almost as unexpected was the adoption of our second daughter in 2005 (our daughters are now 12 and 16 years old – smart, personable, exasperating, beautiful, and stubborn).  Also unexpected was my getting laid off in June of 2011, along with 500 other engineers (this was after dodging layoffs for a couple of decades).  The silver lining to that cloud was that I found I could retire several years earlier than I had expected.
So I've been retired for the last year, and I'm busier than ever before.  I run the Odom Family Taxi Service during the school year, there are still all those books to read, and I still love college football (I'm lucky that I have two teams to root for, my alma mater, O.U., and my adopted A.S.U. Sun Devils).  I'm also making a lot of sawdust in my woodworking shop, a process that I've always found therapeutic, and now I'm adding writing to that list.  And, of course, I'll be closely inspecting any boys who come calling on my girls, and I'll be reminding them of the Expert rifle marksmanship badges I earned in the Marines, just in case they're thinking about getting frisky.
The Jane Austen novels were one of the very favorite books of my first wife.  When I was sorting through her books after she passed away, I put the Jane Austen books aside with the intention of reading them someday. Later on, after I met my present wife and got married, I watched part of the 1995 P&P mini-series, and, curious to find out what happened in the part I didn't see, I dug out P&P from the bookshelves and read it. After that, I must have been in a romantic mood (I was newly remarried, remember), and I watched both the 1985 and the 1995 P&P miniseries and went exploring for P&P sequels.
In the process of exploring, I stumbled across several Jane Austen Fan Fiction sites, and I found a number of very well written stories. That must have stimulated my creative urges, because I came up with the basic idea for ACMP one morning in the shower (always one of the best places for out-of-the-box ideas) and wrote down the bare elements of the concept that night. Before long, I was doing research to find out what was reasonable in Regency England and what wasn't, and the story started to get outlined and, later on, written. I've always liked the Alternative History novels (most of which get put into the Science Fiction section in the bookstores), and AMCP is a story of that type.
There! That's how I got into JAFF reading (1st) and writing (2nd). Plus, over the years, I've liked a number of films that would fall into the chick-flick genre, so I was already more or less susceptible to writing what most people would consider female oriented stories. But my "Guy" credentials are good enough that I don't feel any need to apologize for what I do and who I like to hang with in a literary sense.
Colin