Just in time for the new year, Pride, Prejudice & Secrets, by C P Odom, starts it's blog tour on January 4th.  Follow the tour to read excerpts from the book, read reviews, learn more about Jessica, and participate in giveaways of the book. This is Odom's much anticipated third novel published with Meryton Press.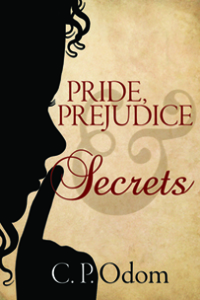 "Seldom, very seldom, does complete truth belong to any human disclosure; seldom can it happen that something is not a little disguised, or a little mistaken."

Jane Austen

---
It is always the completely unforeseen events that lead to the most unexpected consequences, and such is the case in this variation on Jane Austen's Pride and Prejudice. One of the crucial points in Austen's novel is Miss Elizabeth Bennet's fiery and passionate refusal and denunciation of the equally passionate but infinitely more repressed Fitzwilliam Darcy. What might eventuate if the robustly healthy Elizabeth falls prey to illness for almost the first time in her life just when Darcy comes to call? Bemused by her illness, she hardly comprehends what Darcy is asking, and her simple nod of acknowledgment is misinterpreted as acceptance of his suit by a joyous Darcy. By the time Elizabeth regains her health, it seems that every one of her acquaintance and many outside of it accept that she has become engaged to the last man in the world she would ever have considered marrying. Can she openly demand her engagement to the amorous but prideful Darcy be broken, a course fraught with hazards in the social milieu of Regency England? In a maelstrom of confusion, choices have to be made and disclosures closely considered. Elizabeth knows that nothing in her life will ever be the same, and the consequences will likely spread further than she can imagine.
C. P. (Colin) Odom is a retired Electrical/Software Engineer born in Texas, raised in Oklahoma, and graduated from the University of Oklahoma. Sandwiched between the start and end of his collegiate studies was a stint in the U.S. Marine Corps, where he served as an instructor in cryptographic repair.
After graduation, Colin and his first wife, Margaret, moved to Tempe, Arizona, spending the next thirty-five years as an engineer for a large electronics firm while raising two now-grown sons. Always a voracious reader, Colin has admitted to having a serious book addiction problem. Luckily, he also learned a modicum of woodworking skills, which allowed him to build bookcases for housing this "addiction." His favorite genres were (and are) science fiction, historical fiction, and histories.
Colin came to Jane Austen rather later than most. Following Margaret's untimely death from cancer, he read through her well-worn copies of Pride and Prejudice, Sense and Sensibility, Emma, and Persuasion. His liking for this new genre led to the discovery of a number of Jane Austen fan-fiction websites. After reading a number of well-written stories on those sites, Colin ventured to write an alternative version of Pride and Prejudice called A Most Civil Proposal, becoming his first published book from Meryton Press.
Colin currently lives in Chandler, Arizona with his second wife, Jeanine, their two daughters, two stubbornly untrainable dogs, and a pair of very strange cats. Books and reading remains a large part of his life, along with helping to raise their girls, following Oklahoma Sooner and ASU Sun Devil football as well as Formula One racing. Colin often states that "retirement is all that I hoped it would be," giving him time to work on a books for Meryton Press. Consequences, also a Pride and Prejudice variation was published in December of 2013.
Find Colin at:
website | www.colinodom.merytonpress.com
Blog Tour Schedule to Date:
(some stops may be added)